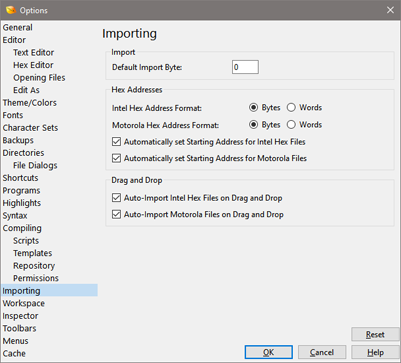 The Importing Options dialog controls various options when importing files using the 'File > Import Hex...' menu option (see Importing/Exporting Files for more information). Open the Importing Options window by clicking 'Tools > Options...' and selecting Importing from the list.
When importing data, some formats (such as Intel Hex or Motorola S-Records) may skip over some bytes. By default, the skipped bytes are assigned the byte value zero, but a different value can be specified by entering a number between 0 and 256 in the Default Import Byte field.
In some Intel Hex files, the addresses are given in terms of Words instead of Bytes. 010 Editor handles these files by converting the Word-based addresses to Byte-based addresses by multiplying them by two. Click the Words toggle in the Intel Hex Address Format area to perform the conversion on Import, or click the Bytes toggle to leave the addresses unmodified. Addresses can be converted to Word-based when exporting via the Export Options dialog (see Importing/Exporting Files).
Clicking the Reset button restores all Importing options to their default values.